larny
biography
Hullo
My name is Lauri, and I'm from Finland.
I've messed around with music most of my life,
and had different solitaire-projects (if interested, check out links), until recently I've been part of a band called Caughtumn.
The word itself doesn't mean anything, though it
does combine the idea of being caught on autumn.
Recent info about our band can be found from our page at
http://www.myspace.com/caughtumn
9

August 17th, 2007 + 4:08 AM
·

larny
It has been a while since I last uploaded our music,
so let's give it a try. There are just acoustic guitar and vocals in this song,
and I hope you guys could give some advice or opinions where to
take it from here, and also if you like it or not.
Thanks.
.Lauri
8

February 2nd, 2007 + 7:02 AM
·

larny
8

September 20th, 2006 + 4:09 AM
·

larny
From our second demo, this is the "album"-version of "Stain" and thus also has an intro added to it. hope you get more out of this.
31

August 24th, 2006 + 5:08 AM
·

larny
Caughtumn is
Jonna - vocals
Olli - gtr
Jukka - bass
Lauri - gtr, vocals
Petri - drums
This is the second song from the "irrelevant pieces"-demo.
also check out the rest at
http://www.caughtumn.com
Alias:
larny

Status: Offline
Threads:
4
Posts:
12
Songs:
4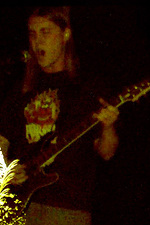 Joined: August 24th, 2006
Last login: October 31st, 2007
My Messengers
| | |
| --- | --- |
| AIM: | n/a |
| ICQ: | n/a |
| Skype: | n/a |